Halloween is getting closer! I had some cards that needed finished (still have a few more to do too...) I have been telling you there were some projects in the works and I am going to finally share some of them with you!!!
Cricut cuts are kinda like baking cookies. The Cricut mat is your cookie sheet...
By the way, I am not a fan of the new style cutting mats. Mine are not sticky. I tried to make several cuts the other day for a different project and the paper kept shifting all over. :( Looks like I will be taking some advice from some others in Cricut world and using some sort of adhesive to make my old ones (and the brand new ones out of the package) sticky again.
Take them off the cookie sheet and frost!
Ok, I'll quit with the baking analogies. Here are the finished cards! I think they turned out cute! Each one had their own challenges and their line of progressively better cards. :)
The spiders were cut using the Smiley Cards cartridge. I used dimensionals (not sure who made them) between the two spider bodies to give them some depth. The purple paper is from Bazzill. The stamps are Indadinkado. The picture below is the front of the card with spider inside. I inked around the edges of the stamp and used colored pencils to color in the stamp.
Here is a closer look at the inside.
Now the pumpkins. On the inside I stamped Happy Halloween. The pumpkins were cut using Gypsy Wanderings.
And the mice! The mice were cut using Happy Hauntings. I really took the opportunity to play with my new Martha Stewart Glitter Markers. I must say I LOVE them!!!!!!
How is your Halloween card making/project(s) moving along? It won't be long now. Where is the time going?
and to
Debbiedoos
for her newbie party. Thanks to both for hosting! I hope you will stop over and check out their awesome blogs and some (or a lot) of the projects found there!
I am also linking up to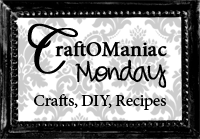 and I need to work on grabbing buttons from everyone!
Have a great week! ~Jen