I made a variety package of cards awhile back. This was one of them. I wish I could have found the sticky note that I made the sketch on. I would have shared that too. The thought came to me one day while sitting at my desk for my full time job. I have learned after forgetting countless ideas to do my best to sketch them or make a note of some sort. I did just that. A few days later I made this card
The jar and the bug were cut from the Stretch Your Imagination cartridge. I covered the jar with a sandwich baggie to give the jar some added dimension. I used my computer and printer for the sentiment.
What do you think? Would love to hear from you! Comments are fun! (I just need to learn how to reply back to your comments by email. I will get there!)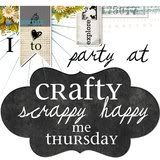 Thanks again for stopping by!!!